You are looking for an excellent Any Language Translator application that can translate English information that comes on mobile into your mother tongue, with this Language Translator application can easily translate any language into your native language, while this application is very useful for WhatsApp users where all your text messages are located Gained the ability to translate into the mother tongue. So let's start this website article with some discussions about this and get help.
What is the use of Any Language Translator?
The mobile phone is often designed with the English language in mind, and most of the information in it is in English, although they use their native language as needed. About 80% of the information sent to us by social media sites is in English, which many find difficult to understand, and one of the best applications to help with this is "Any Language Translator".
Note: Also the main highlight of this application is that it was taken from the official website Google Play Store, as all the photos related to it are attached below so you can easily know more about it, after knowing everything clearly, start downloading and using, our congratulations to you, Below you will find information related to this.
play store details of the translate app
| | |
| --- | --- |
| Available On | Play Store |
| Purpose | Screen Translate |
| Nowadays Installs | 10,000+ |
| Size | 3.7M |
| Offered By | NIVEN Studio |
| App Policy | Policy |
| Website | Official Site |
| Contact | [email protected] |
| Address | 2/F, Block 13, 28 Cheung Sha Wan Road, Kowloon, Hong Kong |
| Get Your App | Install App |
The following languages are supported
Albanian, Arabic, Amharic, Azerbaijani, Irish, Estonian, Oriya, Basque, Belarusian, Bulgarian, Icelandic, Polish, Bosnian, Persian, Boer (Afrikaans), Tatar, Danish, German, Russian, French, Filipino, Finnish, Frisian, Khmer, Georgian, Gujarati, Kazakh, Haitian Creo Arabic, Korean, Hausa, Dutch, Kyrgyz, Galician, Catalan, Czech, Kannada, Corsican, Croatian, Kurdish, Latin, Latvia Languages, Lao, Lithuanian, Luxembourgish, Rwandan, Romanian, Malagasy, Maltese, Marathi, Malayalam, Malay, Macedonian, Maori, Mongolian, Bengali, Burmese, Hmong, Afrikaans, Zulu, Nepali, Norwegian, Punjabi, Portuguese, Pashto, Chichewa, Japanese, Swedish, Samoan, Serbian, Sesotho, Sinhalese, Esperanto, Slovak, Slovenian, Swahili, Scottish Gaelic, Cebuano, Somali, Tajik, Telugu, Tamil , Thai, Turkish, Turkmen, Welsh, Uyghur, Urdu, Ukrainian, Uzbek, Spanish, Hebrew, Greek, Hawaiian, Sindhi, Hungarian, Shona, Armenian, Igbo, Italian, Yiddish, Hindi, Sundanese, Indonesian, Javanese, English, Yoruba, Vietnamese, Chinese (traditional), Chinese (simplified).
AI Screen Translate: The fastest Real-time translator for images, games, comics, browsers, SNS apps and everything on your screen, which allows you to translate more than 100 languages into your native language.
Faster and more accurate translation
AI online translation mode
Offline translation mode
Main features
Everything on your screen can be translated.
All apps can be translated with just one tap on the floating translation ball.
Image translation.
Automatically detect and recognize the text on the image and translate it into your native language at the same position.
Game translation.
Free to play all foreign games, such as Japanese games, Chinese games, and Korean games. Real-time translation of game dialogues and item names.
Comic translation.
Free to read all foreign comics, such as Japanese comics, Chinese comics, and Korean comics. Real-time translation of comic dialogues.
Text translation.
Free to read foreign news and articles, get firsthand information, and improve reading speed.
Conversation translation.
Feel confident to chat with foreigners, AI Screen Translate supports the translation of Facebook, Line, WhatsApp, Telegram, Snapchat, Reddit, Twitter, Instagram, Quora and many other SNS apps.
Offline translation.
The translation is possible when there is no network, or the network is unstable.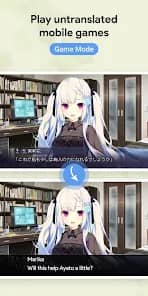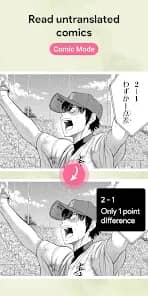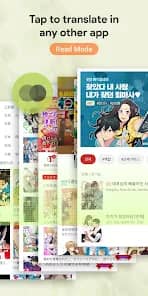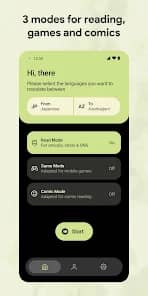 How to download and use this application?
We have given below the opportunity to download the Any Language Translator application, you can go to the Play Store by clicking on it and download it directly.
Note that permission will be required when attempting to install the application on mobile.
Note that if all is done correctly all the languages ​​on your mobile display will be translated into your native language.


We created this web article with the aim of providing great help to every mobile user who is stuck with a language problem. Leave your comments about the information in the article in the comment box, you will receive a reply from us soon, whereas you can click on the link below to install the application Congratulations to you.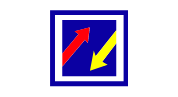 Before I start writing the article, I start writing the article only answering the question of what is the need of the users who come to my article and can we satisfy their needs 100 per cent. I start writing each article only after I have a good understanding of what I know and what I don't know. And all my articles are articles published following Google's website article policy.